Register Now for Baritone Lessons! Call Us Today.
813-991-1177
---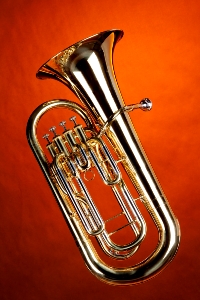 LEARNING BARITONE OR EUPHONIUM
So, is this picture of a baritone or a euphonium? Answer: euphonium. What's the difference? The famous brass musician, Robert King, is attributed with saying that "a euphonium is a baritone played well." Actually the difference is not as most people think; the number of valves or the direction of the bell, but in their construction and tone. The baritone is made of mostly cylindrical tubing and has a smaller bore and bell, the euphonium is made of mostly conical tubing and has a larger bore and bell. That difference gives the baritone a lighter, brighter sound and the euphonium a larger, darker, more powerful sound.
Most students won't begin studying either one until they are in middle school - due primarily to the breath support requirements (especially the larger-bored euphonium), though in no small part to the weight, as well. We can, of course, assist students of all ages in their quest to learn, or improve their skills on the baritone. Whether for that important audition, or simply to enjoy producing beautiful music.
Baritone and euphonium lessons are available to students in all of our surrounding communities, including Tampa, New Tampa and Wesley Chapel.
For more information about the right age to start baritone, euphonium, or any instrument, see our article "5 Ways To Get The Most Out Of Music Lessons)
---