Register Now for Double Bass Lessons! Call Us Today.
813-991-1177
---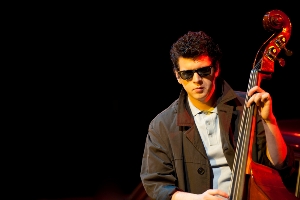 LEARNING CONTRABASS
Contrabass, also known as upright bass, string bass, stand-up bass and double bass, is well recognized as the quintessential jazz instrument - seen in the classic jazz combos of piano, bass & drums - but it has also been used extensively in many genres of music, from rock to pop and swing, and of course in its original use in classical music.
Due to the substantial size of a contrabass, most players don't get started until their teenage years - although aspiring young bassists can find smaller versions of the instrument down to 1/8 size. (Click here for a size chart to help you choose the right size instrument for your child, or click here to check out our great instrument rental partnership with Music & Arts)
Of course students of all ages, big enough to control the instrument, are welcome to study with us - whether to prepare for auditions in school or a professional orchestra, for the sheer joy of playing for themselves and their friends, or to improve their jazz chops on the gig.
Double bass lessons are available to students in all of our surrounding communities, including Tampa, New Tampa and Wesley Chapel.
For more information about the right age to start contrabass, or any instrument, see our article "5 Ways To Get The Most Out Of Music Lessons.
---