---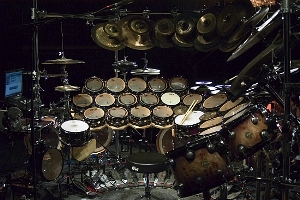 LEARNING DRUMS
Parents will be relieved to know that it's not necessary to buy this drum set when a student is just starting drums.
Age 8 is a great age to start drum lessons - although this varies greatly depending on the size and coordination of the student. Most of our drum students start out on an inexpensive pad and then progress to a full set of drums somewhere between a few weeks and several months (not quite as full as the one pictured above - the famed setup of drumming legend, Terry Bozzio). This is also the way we start students that want to get into school band, as it builds the foundation skills necessary for playing all of the percussion instruments. Of course, drummers and percussionists of all styles and levels are welcome, whether to be more prepared for an audition, or just to have more fun with friends and family.
Drum and percussion lessons are available to students in all of our surrounding communities, including Tampa, New Tampa and Wesley Chapel.
For more information about the right age to start drums or any instrument, see our article "5 Ways To Get The Most Out Of Music Lessons."
---