Register Now for Flute Lessons! Call Us Today.
813-991-1177
---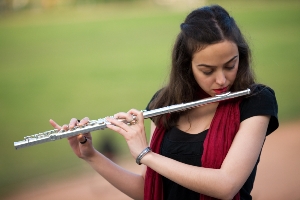 LEARNING FLUTE
Flute can be learned starting at about age 7. Students need to be at least 4 feet tall with arms long enough to reach the length of the instrument comfortably - usually around second grade.
Although the flute does come in many other sizes (the piccolo, or the alto or bass flutes, for instance), these are actually different instruments designed to play in different registers, not for students of different sizes or ages.
Flute is a very common instrument in many forms of music, from band and orchestra, to jazz and even rock and roll. And of course students of all ages are welcome to begin learning flute, or to improve their existing skills for auditions, performances, or simply the joy of learning an instrument to one's fullest potential.
Flute lessons are available to students in all of our surrounding communities, including Tampa, New Tampa and Wesley Chapel.
For more information about the right age to start flute, or any instrument, see our article "5 Ways To Get The Most Out Of Music Lessons.
---