Register Now for French Horn Lessons! Call Us Today.
813-991-1177
---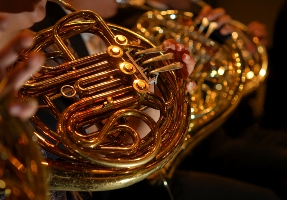 LEARNING FRENCH HORN
Did you know that a french horn would be about 18 feet long if it were unrolled? French horn is a staple instrument in concert bands and orchestras, but it can also be found in many other genres of music - even the Indi band Radio Head has used them.
Most students don't start french horn until middle school, when excess trumpet players are sometimes encouraged to make the switch to help cover that important range in their band or orchestra. The mouthpiece is about the same size, and the fingerings are mostly the same as trumpet - although the valves are rotary and manipulated with the left hand on french horn, with piston valves operated with the right hand for trumpet. Students could start french horn as soon as they have their adult teeth, however, and all ages of french horn enthusiasts are welcome. Whether just starting out, preparing for a big audition, or just improving their skills for the love of music.
French horn lessons are available to students in all of our surrounding communities, including Tampa, New Tampa and Wesley Chapel.
For more information about the right age to start french horn, or any instrument, see our article "5 Ways To Get The Most Out Of Music Lessons."
---