---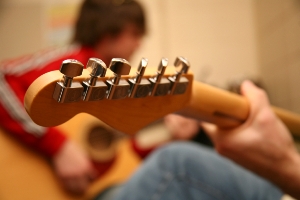 LEARNING GUITAR
Guitar is one of the most popular instruments in the world. It's nearly impossible to get through a day without hearing one.
We recommend age 8 as a great age to start learning guitar. Younger students can find the instrument quite uncomfortable to play - even if they can get their arms around one of the smaller instruments that are available - because it requires a fair amount of pressure to hold down the strings. At the right age, however, learning guitar can be very satisfying because learning an actual 'song' can happen a bit sooner than with other instruments. Of course, guitarists of all styles and levels are welcome, whether to be more prepared for an audition, or just to have more fun with friends and family.
Students can begin on either an electric or acoustic guitar. Both use the same tuning, have the same number of strings and are learned in a similar way, so the choice is the student's. Some have said they find the electric to be a bit more comfortable to learn because the string gauge is a little thinner and the strings a bit closer to the neck of the instrument.
Guitar lessons are available to students in all of our surrounding communities, including Tampa, New Tampa and Wesley Chapel.
For more information about the right age to start guitar or any instrument, see our article "5 Ways To Get The Most Out Of Music Lessons.
CLICK HERE to REQUESST INFO
from Info@ExcelMusic.us
---