---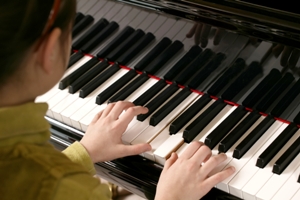 LEARNING PIANO
Piano is an excellent beginning instrument for students age five and above. Though it's always best to start with the instrument that most interests the student, learning keyboards is a great way to learn the fundamentals of music in an easy to understand, linear way and can make a change to a different instrument easier once a child is older (for more information about the right age to start any instrument, see our "5 Ways To Get The Most Out Of Music Lessons). Of course, pianists of all styles and levels are welcome, whether to be more prepared for an audition, or just to have more fun with friends and family.
Learning piano, or keyboard, promotes excellent hand-eye coordination and requires the ability to perform multiple movements and thoughts simultaneously, which encourages rapid processing in the brain that studies have shown can assist in other areas of learning as well.
We recommend having a good instrument to practice on at home - but you don't need to go out and buy an expensive acoustic piano, a good quality, student-line keyboard will work very well.
Piano lessons are available to students in all of our surrounding communities, including Tampa, New Tampa and Wesley Chapel.
---