Register Now for Sax Lessons! Call Us Today.
813-991-1177
---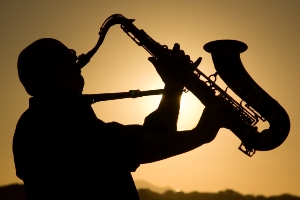 LEARNING SAXOPHONE
Sax is usually started at about age 9, after the student's adult teeth have come in and when they are physically strong enough to support the fairly heavy instrument.
Sax is used in many forms of music, from concert band, to jazz, pop and rock-n-roll. It comes in many different sizes and shapes, from sopranino through contrabass. These different versions are intended to play in different registers and not based on the size of the performer. One of these - the soprano saxophone - is sometimes mistaken for a metal clarinet as their sizes and shapes are quite similar.
Sax students of all skill levels and ages are welcome, whether just getting started learning the instrument, preparing for upcoming auditions and performances, improving your chops to play better at the gig, or just to improve your skills for your own enjoyment.
Saxophone lessons are available to students in all of our surrounding communities, including Tampa, New Tampa and Wesley Chapel.
For more information about the right age to start saxophone, or any instrument, see our article "5 Ways To Get The Most Out Of Music Lessons."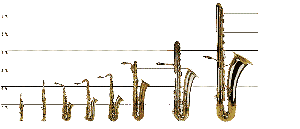 The saxophone family, from left to right: sopranino, soprano, alto, C-melody (tenor), tenor (B-flat), baritone, bass and contrabass
---