Register Now for Trumpet Lessons! Call Us Today.
813-991-1177
---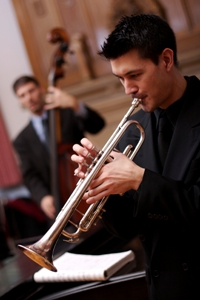 LEARNING TRUMPET
Trumpet players can usually get started around age 9, after the student's adult teeth have come in. Of course, trumpeters of all ages and skill levels are welcome.
Need help getting ready for that marching or concert band audition? Maybe you want to improve your tone for orchestra. Perhaps you need to refine your technique or increase your range for a jazz gig, church performance, or just to have more fun with your friends or family. Our instructors can assist you.
Trumpet lessons are available to students in all of our surrounding communities, including Tampa, New Tampa and Wesley Chapel.
For more information about the right age to start trumpet, or any instrument, see our article "5 Ways To Get The Most Out Of Music Lessons."
---