Register Now for Tuba Lessons! Call Us Today.
813-991-1177
---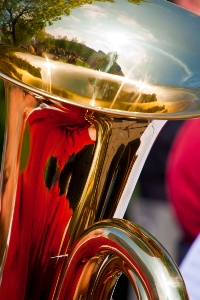 LEARNING TUBA
Tuba is the bass voice in the band or orchestra - and a polka band wouldn't the same without one. A lot of instruments get called "tubas," like sousaphones (the ones that wrap all around the player), and contra bass bugles (the ones with only 2 valves, held up on the shoulders of the players in drum corps). But the real deal has 3 or 4 valves and is held in the lap of the player - or on the shoulder in marching band.
Due to the extreme weight and size of the instrument, the size of its mouthpiece, and not to mention the lung capacity required to get notes to come out, tuba is never started prior to middle school - and then rarely by smaller students. For those students that do want to improve their tuba playing, we can help.
Whether for an upcoming audition, improving your skills for marching band, concert band or orchestra, or to oom-pa with style in your local polka band, our instructors can help you on the journey.
Tuba lessons are available to students in all of our surrounding communities, including Tampa, New Tampa and Wesley Chapel.
For more information about the right age to start tuba, or any instrument, see our article "5 Ways to Get the Most Out of Music Lessons")
---