Register Now for Violin Lessons!
Call Us Today 813-991-1177
---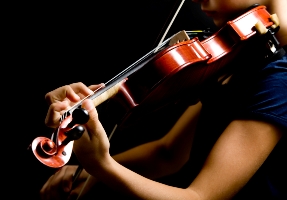 LEARNING VIOLIN
Children can actually start learning violin as early as age 4, through the use of smaller sized instruments (some as small as 1/16 of regular size!). As the child grows, the instruments are exchanged for progressively larger violins until they're ready for a full-size instrument. (Click here for a size chart to help you choose the right size instrument for your child, or click here to check out our great instrument rental partnership with Music & Arts)
Of course, you can start playing the violin at any age and we've had many adult students fulfill a lifelong desire to play. And if you need to prepare for that upcoming audition for middle school, high school, or even college orchestra, we can assist with that, too.
Violin lessons are available to students in all of our surrounding communities, including Tampa, New Tampa and Wesley Chapel.
For more information about the right age to start violin or any instrument, see our article "5 Ways To Get The Most Out Of Music Lessons.
CLICK HERE to REQUESST INFO
from Info@ExcelMusic.us
---