Register Now for Singing Lessons!
Call Us Today 813-991-1177
---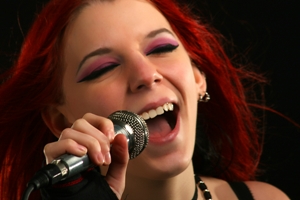 LEARNING TO SING
Everyone loves to sing! It's the one instrument we can all carry with us all the time. And like with any instrument, the voice requires training to be used to its full potential.
Voice lessons teach the student proper breathing techniques, projection, control and how to prevent damage to the vocal cords.
With other instruments a blister on a finger or sore muscle from holding it in place is about the most trouble you can have. Singing incorrectly, however, can actually cause a callus on the vocal cords. Called a "node," this can make the voice sound constantly gruff and make singing well almost impossible - as well as requiring prolonged silence to cure. That's why voice lessons are so important for singers at all ages and levels.
From age 6-10 we take a more general approach with our voice students, as the younger body is generally not yet ready for physical demands of traditional voice lessons. At age 10 and above, the more rigorous training can begin.
Singing lessons are available to students in all of our surrounding communities, including Tampa, New Tampa and Wesley Chapel.
For more information about the right age to start lessons on voice or any instrument, see our article "5 Ways To Get The Most Out Of Music Lessons."
CLICK HERE to REQUESST INFO
from Info@ExcelMusic.us
---